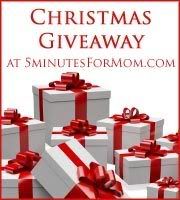 Remember to keep checking back for the latest contests – you don't want to miss any! They will be posting several contests. Click on each of the links below and comment on the contests you wish to enter:

PLEASE REMEMBER: You need to click over and comment on each contest you want to enter.
PLEASE NOTE: Entries for all contests will be closed Sunday, Nov 25
th
at 10pm Eastern and winners will be announced on Monday, Nov 26
th
. Click on the image above to get your directly there!!
Labels: Contest